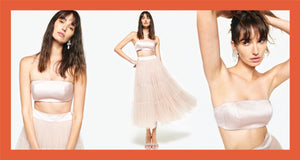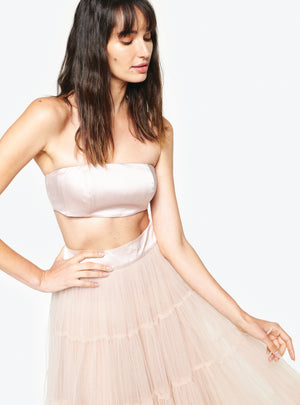 Captivating hand-made gowns.
THE FRANCESCA MIRANDA COLLECTION
Latin American gown designer based in Colombia
Drawing inspiration from authentic craft, compelling ethnical legacies, and current design, Francesca creates collections with a captivating sense of style and inimitable creativity. The DNA of the brand is based on an interpretation of Francesca's Latin American and Caribbean influence, an effortless approach to femininity, and an intimate understanding of contemporary art and culture.
Each Francesca Miranda gown is hand-made in our atelier using the most exquisite fabrics and artisanal craftsmanship that defines the brand. 
CREATIVE DIRECTOR
Francesca Miranda
Let's kick it off with a
quick fire! What's your favorite…
Cocktail: Carajillo
Museum: The MET
City: Roma
Comfort Food: Any given pasta 
Skincare Must Have: These days it's facial yoga
Instagram Account: @francescamiranda_
Tell us about your design process!
Fabrics are my first source of tangible inspiration. I love sitting down with my swatches and finding ways to re-interpret what I have in front of me. At times that can look like de-constructing a piece of lace and others, like turning silk into hand-sown fringes.
Now spill the tea...
What's a fun fact not many people know about you? 
I started doing menswear
When did you know you wanted to be in fashion?
Helping my dad pick out fabrics for his tailored clothes while growing up.
How would you describe the Francesca Miranda woman?
A sophisticated and timeless woman, who evokes an effortless approach to femininity.
How do you want her to feel in wearing the collection? 
One of our special clients wrote this to me a couple of days ago and I think she said it perfectly: "Confidence is the sexiest quality in a woman, and Francesca Miranda does that for me, every time!"
Who is your style icon?
In this precise moment I am loving Zendaya and Anne Hathaway.
What's your closet hero?
A men's white tuxedo shirt. It has always been my closet hero, and it's funny because it has now become both my daughter's go to, and I love to see how they style it.
Cheers!