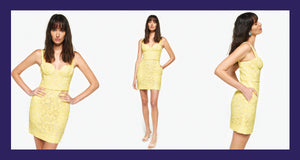 An emerging designer women's and menswear brand founded by Danish designer Christian Juul Nielsen.
THE AKNVAS COLLECTION
Thoughtful, well-designed, and innovative daywear for discerning and dynamic women.
Designed in New York City, the brand creates clothing that moves seamlessly from desk to dinner, with a focus on drape, flattering silhouettes, innovative knits and an elevated palette.
FOUNDER & CREATIVE DIRECTOR
Christian Juul Nielsen
Let's kick it off with a
quick fire! What's your favorite…
Cocktail: Dirty Matini
Museum: Neue Galerie NYC – Best collection of Austrian artist incl. my favorite Egon Schiele
City: Copenhagen – Where I was born and where I love to go
Comfort Food: licorice – ideally very salty or very sweet – can't explain why 
Skincare Must Have: Prakti – instant glow exfoliator
Instagram Account: @aknvas @christianjuulnielsen
Tell us about your design process!
I select fabrics from various suppliers, most of them from Japan and start putting the collection together. I spend a lot of time draping on the mannequin in techniques I learned during my days at Dior under John Galliano. I always feel I can push myself further when working with my hand and creating silhouettes that way. Then obviously the sketching is the part where I visually put together the whole collection before sending it to my patternmaker to make it into garments. Then I basically push myself as hard as I can to make the whole thing as good as I can by adding details and colors to the whole thing. I spend a lot of time with a live models draping up fabrics and making sure she looks fantastic in what she is wearing. Eventually I get to styling where I put together looks adding accessories. Within this
process I also pick what models and photographers to work with to get it all into a new collection.
Now spill the tea...
What's a fun fact not many people know about you? 
I am a trained fireman
When did you know you wanted to be in fashion?
When my grandmother gave me a ton of fabric scraps and I stated draping them into dresses on my dolls.
How would you describe the AKNVAS woman?
Confident, aware, creator of her own universe. She is a city girl that cares about what is going on in the world on all levels from politics to fashion. She loves to make a statement in terms of color and silhouette.
How do you want her to feel in wearing the collection? 
Confident , strong and empowered.
Who is your style icon?
David Bowie
What's your closet hero?
Oversized AKNVAS shirts
Cheers!