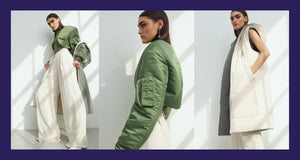 THE CAALO COLLECTION
Fusing luxury with future-focused thinking.
New York based designer's Jordan and Chelsea Claridge have created a modern collection of transformable, trans-seasonal pieces that are expertly crafted from the highest quality materials and are non-gender specific. The label's ethos is driven by thoughtful design, innovative fabrics and sustainably produced in small runs in Manhattan, New York to ensure the highest quality possible. A future-focused luxury brand - Born in New York, inspired by nature.
CO-FOUNDER & CREATIVE DIRECTOR
Chelsea Claridge
Let's kick it off with a
quick fire! What's your favorite…
Cocktail: Dirty gin martini. 3 olives.
Museum: The MET on a rainy day
City: New York City in the fall. Paris in the spring.
Comfort Food: Yasai Ramen from Miso Ya on 2nd Ave
Skincare Must Have: Sunscreen & Vitamin C serum by Circumference
Instagram Account: @caalostudio
Tell us about your design process!
Thank you! A big part of the inspiration for each collection comes from the fabrics. We work closely with some amazing mills in Italy, Japan and Korea. We take pride in using the highest quality fabrics that are both beautifully made, but are also sustainable and technical. We like the fact that when you first look at our pieces you can't tell that they are incredibly functional and technical until you wear them in the cold or the rain. The Italian down we use is thin, yet extremely warm; perfect for East Coast winters.
Now spill the tea...
What's a fun fact not many people know about you? 
My first real job was as a snowboard instructor in Vancouver, Canada.
When did you know you wanted to be in fashion?
I've always been obsessed with color and design. As a young girl I would create outfits for my barbie dolls and watch hours on end of Fashion Television. This is my second Jeanne Beker reference this month actually!
How would you describe the Caalo woman?
I think the person that gravitates towards our pieces is someone that wants to feel confident and chic, while still being comfortable. They value design, craftsmanship, quality and function.
How do you want her to feel in wearing the collection? 
Like she's wearing her favorite go-to jacket. When she put's it on she instantly feels her best!
Who is your style icon?
Is it too cliché to say Françoise Hardy?
What's your closet hero?
A trench coat! It goes with pretty much any outfit. Dress it up for the evening or down for everyday.
Cheers!