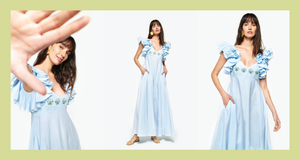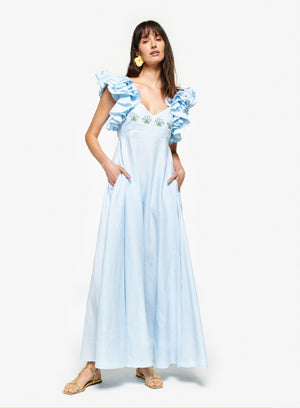 Consciously crafted linen apparel, inspired by nature.
THE FANM MON COLLECTION
designs that celebrate the handcrafted traditions of our Haitian heritage.
Fanm Mon was launched in 2013 as an ode to our Haitian heritage and the magic and enchantment of Haitian couture. Over the years, we've embraced the artisanal techniques of Ukraine, where we were once based, and Turkey, where we've now made a new home. Today, a potpourri of delightful colors, unique motifs, fairytale silhouettes and extraordinary craftsmanship have become hallmarks of our brand. Through our collections, we celebrate the bounty of nature and the beauty of the human spirit. Our hope is that we can connect with our community in meaningful ways to nurture beauty from the inside out.
OWNER & CREATIVE DIRECTOR
SOPHIA DEMIRTAS
Let's kick it off with a
quick fire! What's your favorite…
Cocktail: Margarita
Museum: Museum of Natural History
City: NYC
Comfort Food: Rice and Beans (Haitian Style) 
Skincare Must Have: Fresh Aloe Vera
Instagram Account: @fanmmon
Tell us about your design process! The fabrics are works of art and we must know more!
My process starts with a thought or an inspiration from nature. Having our production atelier in Turkey has allowed me to compose my specific linen quality from scratch. The softness, durability, and breathable light weight linen texture is a result of making Fanm Mon's linen from thread
Now spill the tea...
What's a fun fact not many people know about you? 
I am a folk dancer
When did you know you wanted to be in fashion?
Since my early 30s
How would you describe the Fanm Mon woman?
Hardworking, beautiful, creative, naturalist, mom
How do you want her to feel in wearing the collection? 
100% herself, comfortable and happy
Who is your style icon?
Diana Ross, Nina Simone 
What's your closet hero?
A beautiful Fanm Mon Dress
Cheers!